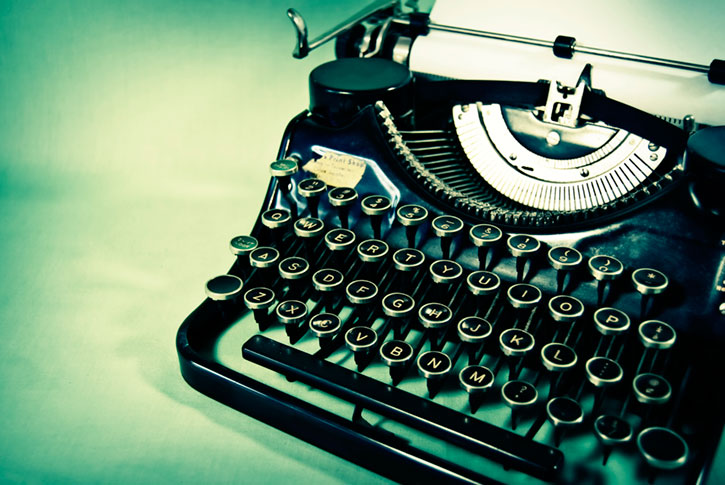 How long should your blog post be? This is the question asked by many bloggers. You want to appeal to your readership, and at the same time rank well for certain keywords.
Content is king, but word length is important too. A blog post of the right length, means the difference between having more readers, more comments, more traffic and more overall SEO karma. This is because not only  is the quality of your content important but the length of your content plays a major role when it comes to determining your site's search rankings.
What is the Perfect Blog Post Size?
The Case for Short Blog Posts
The rule of thumb is that the absolute minimum blog post length should be 300 words. But should Blog posts be less than 600 words? The quick answer is, usually no. The only benefit of short posts is that you may get more comments, but you are missing out on the advantage that longer posts  bring you via increased social media shares, improved search engine rankings and a good flow of backlinks.  Research has consistently shown that longer posts are better and give you more benefits, with posts of over 1,500 words being some of the most popular.
The Benefits of Long Blog Posts
Content is really important when it comes to search rankings, so if you are going to leverage content marketing, you might as well do it right. – Neil Patel
Longer, heavily researched posts of 1,800-2,450 words get your more traffic from Google. This is because search engines love longer, authoritative posts that focus on solving a problem.
According research from serpIQ, the top 10 results from Google all have a minimum of at least 2,000 words. The reason why longer blog posts are in the top 10 results so often is because when Google crawls your site it looks at every piece of content on your page, including such things as page title, words, titles, headings (H1,H2, etc.) alt tags on images, etc. Longer posts also give you more keyword variety, which increases your chances of hitting important longtail keyword combinations which will also lead to improved search engine optimization.
So, when you have post that has 1,500 or more words you have a greater number of keywords and Google doesn't provide exact results, it provides results that are related to the subject the user searched for.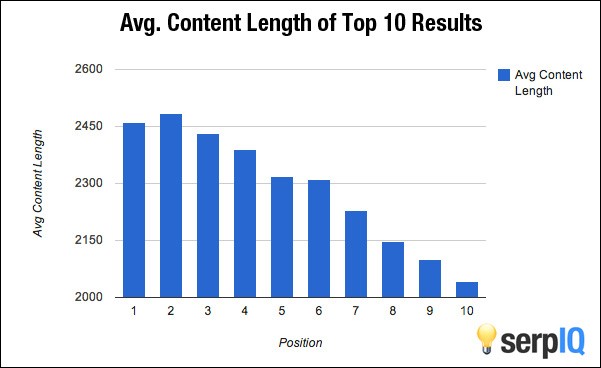 Not only do longer posts improve your SEO, but it has also been found that they increase your chances of gaining quality back links, which increase your sites authority and in the long run leads to increased traffic.
There is a widely held myth that short to medium sized posts lead to more social media shares, but this is not accurate. Research has shown that blog posts which contain more than 1,500 words gained 68.1% more tweets and 22.6% more Facebook likes than shorter posts .
Size Isn't Everything
The length of your post isn't everything and it is important to take into consideration the following tips by  Neil Patel.
Substance – What's the meat and potatoes of your post? Can you deliver your message in 200 words? Or, do you need 2,000 words?

Style – Your writing style may just be more direct. Or, you could be someone who is extremely controversial. Your particular writing style will determine its length.

Frequency – How often are you posting on your blog? Once a week? 5 times a day? We mentioned this earlier, but if you post several times a day, longer posts may not be in your favor.

Format – It's suggested that break up your content so that people can easily scan the post.

Purpose – What's the purpose of your content? Are your selling a product or service? Are you trying to increase your email list? Do you want inform your audience on your industry? The purpose of your post will determine its length.

Audience – Always remember your audience. Does your content meet their needs, interests,  passions, and solve their problems?

Medium – When you post  content like graphs or videos, word count doesn't matter as much. The main focus is on the media presented in this case. Not how many words you had written.
Post Size Guidelines
300 words or less – Good for generating discussion, but they do not get many shares, and are bad for SEO.
300-750 words – Standards post length, get good amount of shares and comments, but it is still not enough for a positive SEO impact.
1000-1500 words – Best length to get social shares. You will probably get less comments, and it is SEO neutral.
1800-2,450 words – The highest ranking articles on Google average 2,450 words. This post length will do wonders for your search engine optimization, which will generate traffic to your site.
Make sure that your content solves a problem and that they keywords are what your readers will be searching for, and that their CPC is reasonable.
Conclusion
While the length of your content is important, what you should really be focusing on is the quality of the content and the problem you will be solving for your readers. Shoot for long posts, but don't let the quality of your message suffer just so that you may reach a specific word count goal. As you gain experience, and perform a thorough review of your analytics as to which posts do better than others you will soon get a feel for what is the ideal word count for a blog post.